Design Stairs
(click image to enlarge)
The stairs of design base most of his structure on a central pillar that goes through the stair in all his length, this type of stairs particularly presents a minimalist design, the central pillar provides visual lightness to the staircase. The unique design and care in the details of the stair tends to make this stair the centerpiece of the environment where they are. The disign stairs are custom built stairs.




Placing a design stair on a gap in the floor as shown in the following photos will give you a new visual dimension to your project. The sight of the ladder will benefit your general room environment.




Another option are stairs with steps of glass or crystal as you can see in the third photo, you can also visit our glass stairs section.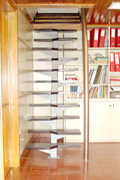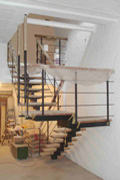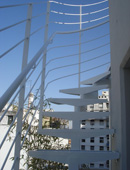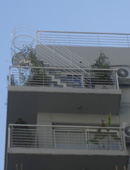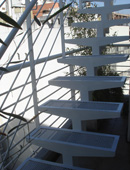 Conceptual Schemes:
The design stairs are composed by a central pillar structure, they are custom designs and constructed only by order. It has metal structure consisting of a 80x140x2mm tube located in the center of the width of the staircase. The steps are supported on metal brackets under each step. The steps are hardwood of one and a half thick. The railing is made up of round wooden banisters.



Contact Us, we have a response for every need

Go up