Half Spiral Stairs
(click image to enlarge)
The half spiral stairs of Eleve are ideal for environments with little space, requiring a minimal hollow of 1,25 x 0,65 you can solve the access to a top level with this model. They turn out to be ideal for hillocks, garrets and attics.







These stairs combine a spiral stair with a straight alternated stair. These stairs are feasible even for a constant use and require a minimum habituation to use.
Conceptual Schemes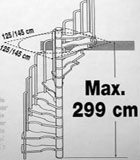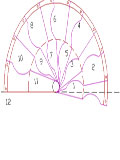 Contact Us, we have a response for every need.

Go up