Sliding or Mobile Stairs
(click image to enlarge)
Sliding or mobile stairs with a guide at the top top all relied on low wheels. Ideal for libraries, also for access to racks in deposits.
We have models in iron, wood and stainless steel as you can see on the images of this page. Also it is possible to locate the stair parallel to the library or perpendicular to it. For racks of deposits it offers a great facility of use.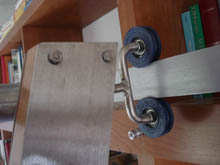 Contact us, we have a response for every need.

Go up